Our Play All Day Program is now CLOSED. This Program will return during March Break and the Summer of 2024.
Youth Players can join our team daily for a full day of Outdoor Laser Tag, Sports and Games.
Reservations Required.
Monday through Friday.
Early Entry / Quiet Movie from 8:00AM until 11:00AM ($10.62+tax).
Games and Activities run from 11:00AM until 6:00PM ($35.40+tax).
Limited Space for 15 Players Per Day.
This program is designed for Players 8-16 years of age, with the except of Players 6 and 7 years old being allowed to attend if they have a sibling 10 years of age or older attending.
Players must be a minimum of 110 centimeters / 3.6 feet tall to participate in the Tactical Laser Tag experience.
Outdoor Physically Friendly Summer Fun with our Day Camp Style Program.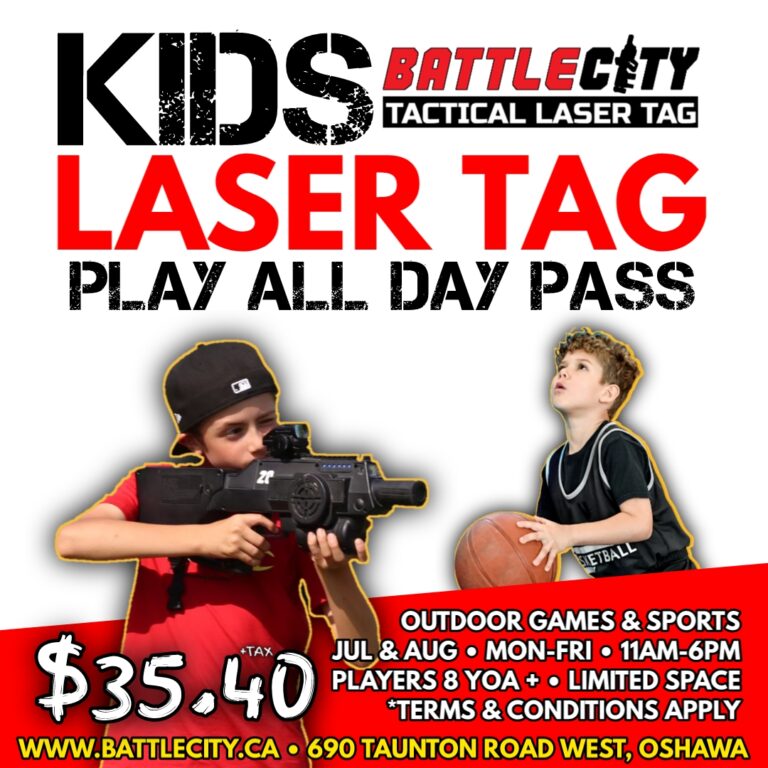 1) Pre-Register Online
2) Fill out the Participant Information Questions during registration.
3) Complete the Online Waiver
Reservations can be made online up to 8:00PM the day before.
Last minute reservations may be available by calling us at 289-802-5202. Our phone lines are monitored between 10:30AM and 8:00PM.
A minimum of 4 Players are required for the Play All Day Program to proceed. In the event there are not 4 or more Players registered the Program will be cancelled for the single day and the Registered Players will be notified by email the day before around 6:00PM.
Players can be dropped off at any time, with the gate opening at 8:00AM. Players can be picked up at any time with the gate closing at 6:00PM. Re-Admission is permitted throughout the day.
What to Bring
Pack a Lunch, Snacks and a Water Bottle.
Drinks and Snacks are available for purchase.
A Drink/Snack tab amount can be set during registration and the Credit Card on file will be charged for the used tab amount at the end of the day.
Players may also bring debit or cash to purchase Drinks and Snacks.
Sunscreen and Bug Spray is recommended; however, our team does have some on hand.
Proper closed toe shoes are required to participate in the Play All Day Program.
Players should dress appropriately for the weather. Battle City operates Rain or Shine. 
In the event of thunderstorms the Players will be moved into an indoor shelter.
Battle City does have a couple small wading pools available for Players to cool down in.
Program Team Members
All Battle City Team Members are carefully selected through a multi-stage interview and background process.
Each Team Member that is 18 years of age or older is required to present a clean criminal background review with a vulnerable sector check.
All Team Members are required to possess valid First Aid & CPR training.
One of our Managers is an experienced Supervisor Youth Worker with over 2 decades of experience.
They possess a number of certifications including training and review under Children's Aid Society, with a clean reported history by Children's Aid Society.
Some of their certifications include: Parent Resources and Information, Development and Education; Non-Physical Crisis Intervention; Mental Health First Aid; Psychological First Aid; Emergency Medical First Responder; Advanced First Aid Instructor; Fundamentals of Instruction/Teaching and more.
Our Jr. Wardens are High School Student Volunteers that assist our Team with overseeing games and activities.
Jr. Wardens assist our team by monitoring our Play All Day Guests while they participate in the same activities.