Book a Laser Tag Group Function Party or Team Building Event at Battle City, Durham Region's #1 Laser Tag Experience.
Our Laser Tag Group Functions create a superior team building experience.
Our cutting edge equipment creates a new age tactical laser tag experience much different than old school laser tag.
We've combined the experience of paintball and airsoft into laser tag and merged innovative video game concepts to create the best experience possible with the most advanced laser tag equipment available.
Don't take our word for it, check out our Reviews on Google.
We recommend players be 6 years of age and older to participate in Tactical Laser Tag Group Functions.
Family Event, Team Building Activities, School Trips and Summer Camps... Battle City is ready to gear you up for Laser Tag Deployment.
Our Outdoor Venue in North Oshawa can currently host up to 45 people.
Please contact us if you have more than 45 guests.
Up to 18 players in each game.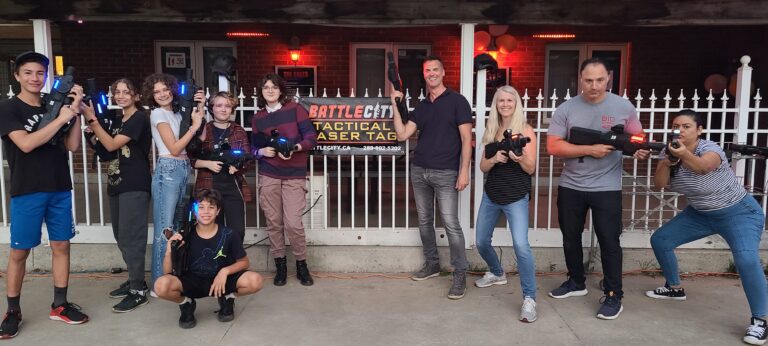 Laser Tag Group Functions Pricing
(Up to 18 Players in Each Game)
30-Minutes (2 x 15-Minute Games) $191.00
60-Minutes (4 x 15-Minute Games) $382.00
90-Minutes (6 x 15-Minute Games) $573.00
120-Minutes (8 x 15-Minute Games) $764.00
150-Minutes (10 x 15-Minute Games) $955.00
180-Minutes (12 x 15-Minute Games) $1146.00
All Day of Game Time – Please Contact Us
Prices do not include taxes.
Pizza (Boston Pizza Oshawa) $17.50
2L Drink $3.50
30-Minute Picnic Area Time $39.99
60-Minute Picnic Area Time $79.98
Prices do not include taxes.
FREE 30-Minute Picnic Area Time for Non-Profit Sports Team or Youth Group (Monday through Thursday). Proof of organization required.
This option is not available to public groups or private parties.
Afterpay Option
Spread function or party reservation fees over four interest-free payments over six weeks. There is an additional fee to use our Afterpay option.
No deposit is required when using Afterpay, as it is included in the payment plan.